Baltic Bellyboards
Our boards will put a smile on your face that will make even the Cheshire cat jealous.
Beautiful bellyboards and paipos for the sea and balance boards for dry land.
Shaped and painted with love in the north.
We started with bellyboards. They have been built for decades in England, especially in the Cornwall region and Devon. Bellyboards are sustainable bodyboards because they are made of wood rather than foam compounds. However, they are not only more environmentally friendly, bellyboards are also much more robust. Their compact size makes them the perfect travel companions and they work in almost any conditions.

Whether it's just ankle-high waves or head-high breakers; a bellyboard always shreds!

And these are exactly the reasons why we love building our Baltic Bellyboards and shredding through the waves with them.

In September 2021 we took heart and founded Baltic Bellyboards to build boards that should be as much fun for you as they are for us. You will see, once you have enjoyed the waves to the fullest with a Baltic Bellyboard from Rostock, it will become your constant companion when heading for the coast.

Meanwhile we also shape Paipos, the Polynesian ancestors of Bellyboards. They are thicker than bellyboards and more similar to bodyboards in shape and handling characteristics. However, the boards are made of European paulownia wood and not environmentally harmful plastics. The shape is shaped with a plane, file and sandpaper.

Is the sea times not tangible. No problem; we also build balance boards that will give you a lot of fun on land.
Bellyboarding
Do you want to learn more about bellyboarding?

Then check out the YouTube video from NTSouthWest. You can see right away what fun it is.


Inhalte von Youtube werden aufgrund deiner aktuellen Cookie-Einstellungen nicht angezeigt. Klicke auf "Zustimmen & anzeigen", um zuzustimmen, dass die erforderlichen Daten an Youtube weitergeleitet werden, und den Inhalt anzusehen. Mehr dazu erfährst du in unserer Datenschutz. Du kannst deine Zustimmung jederzeit widerrufen. Gehe dazu einfach in deine eigenen Cookie-Einstellungen.
Zustimmen & anzeigen
Our board box at Café Laska
To all the locals and people buzzing around Rostock!
We are absolutely stoked that there is a box full of our boards in the wonderful Laska. And honestly, what better place to dream about shredding down the waves on our boards or doing an elegant dance on the balance board than over a great coffee with a delicious piece of cake? So take a look....
Online Shop
Go to our online shop to order our boards. You can also take custom orders.
Manufacturing
We do not use shapes cut by computer, but make all boards ourselves. For this we use only sustainably grown wood.
The boards are of course hand-painted by us and the designs are also created by us. But you can also select your own design on your board.
The colors are provided with the "blue angel" and all unpainted areas are impregnated with sustainable linseed oil.
Our Bellyboards
Bellyboards are sustainable bodyboards made of wood. They should be part of every surf quiver, as they work great in almost all conditions and they really shreds. Bellyboards are super handy and you'll never leave the spot disappointed again. So especially in the Baltic Sea, good mood is guaranteed. The wood is FSC-certified okoume or birch (multiplex).
Mucki

Length runs and therefore there is nothing that does not go with the Mucki. With a length of 117 cm you roll quite relaxed with the wave towards the beach. In fact, with the Mucki you get really fast speed on it but without much effort; just smooth.

Specs: 117 cm long and 32 cm wide.
Purzel

Purzel is with 90 cm our sporty variant and the perfect travel board. With its compact shape, it is very maneuverable to handle and despite the small size you can get ankle-high waves. That's why Purzel always has a free place in our backpacker backpack.
In addition, we recommend Purzel for elementary school kids, as our giant Mucki is rather unwieldy for the little surfers in the waves.

Specs: 90 cm long and 32 cm wide.
Our Paipos
Paipos are the Polynesian ancestors of bellyboards. They are thicker than bellyboards and are more similar to bodyboards in terms of shape and riding characteristics. However, the boards are made from European paulownia wood and not from environmentally harmful plastics used in bodyboards.
The shape is shaped with a plane, file and sandpaper. Our paipos glide on super fast and will let you effortlessly shoot towards the beach with the wave.
Herring and Porpoise

While our Hering (on the picture) is very maneuverable and perfect as a travel board, the Porpoise is the ultimate wavecatcher.

Specs Herring : 60-89 cm long and 32-38 cm wide.

Specs Porpoise : 90-115 cm long and 35-43 cm wide.

Both boards have a thickness of ~2.3 cm.
Our Balance Boards
On a cork roller our balance boards offer endless fun and countless tricks can be tried out.
Jute bags in various versions

Whether it's a gym bag or a tote, our designs look great on everything.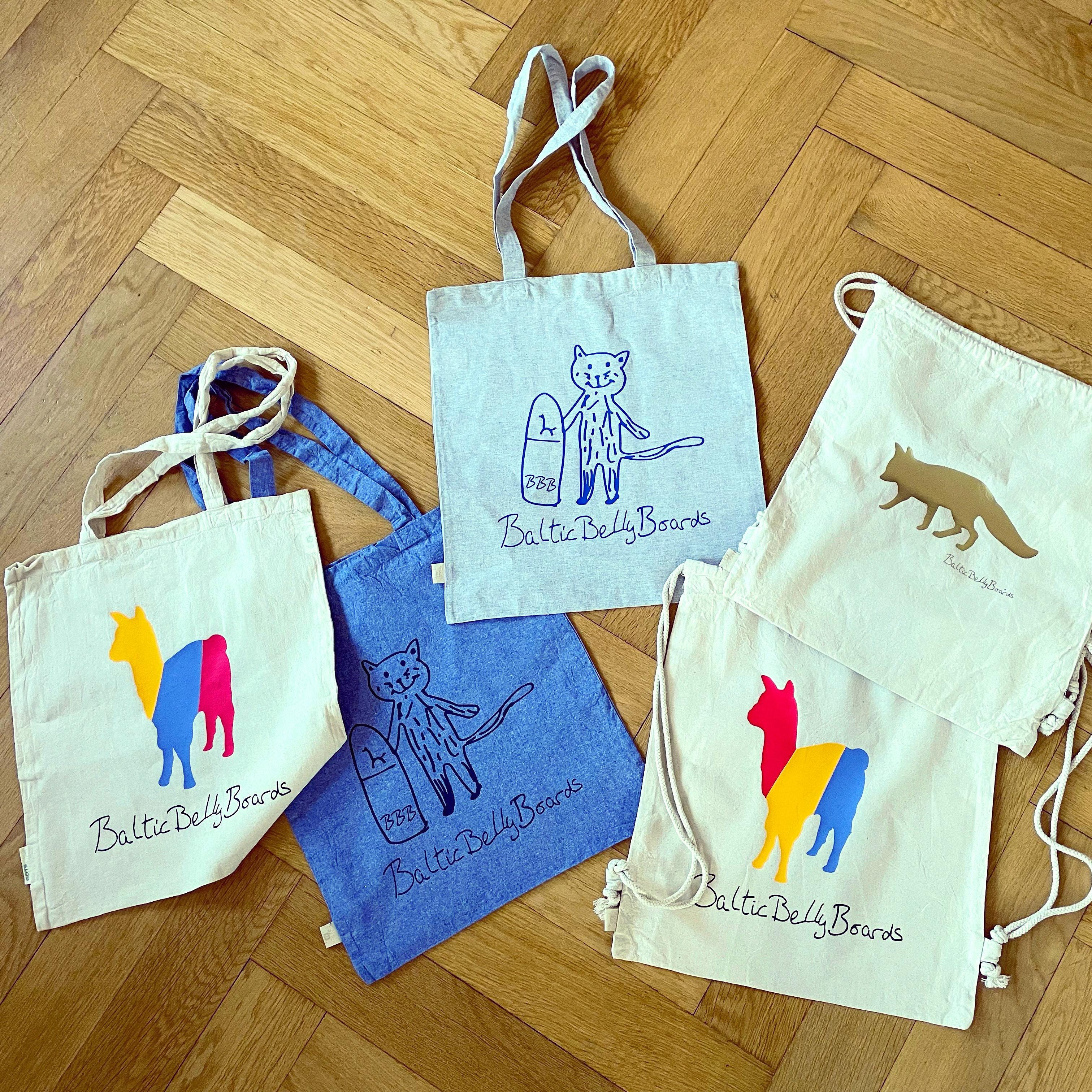 Our paipos are pure joy made of wood.
A Baltic Bellyboard is a must-have for any surf quiver, as it shreds through the waves in almost any conditions.
Each board comes with a few of our wonderful stickers.
Even the smallest waves still rock with a bellyboard.

Custom Order
Would you like us to design a board according to your ideas?

No problem!

Just contact us and we will plan your personal board together. Simply use the contact form available below and we will get in touch with you or go to our shop.